We recognize that all of our patients are unique and deserve to receive orthodontic care that reflects their individual needs. Our experienced and talented team is committed to working with you and your family to create a comfortable, stress-free, and rewarding orthodontic experience every time you visit our practice.
We are pleased to welcome you and your family, and we look forward to working with you.
Dr Levitt and Dr. Dorfman are your experienced Southampton and Bensalem, PA orthodontist. Call our office today to schedule your first appointment!
---
Beverly
Office Manager
Welcome to Levitt Orthodontics! I will be one of the first faces you meet when you come in to see us, and I strive to make each patient and family feel comfortable, confident, and special.... like family. I'll help you schedule visits, coordinate financials, walk you through your treatment plan, and am always available to answer questions and get to know you! I love helping our patients and families navigate the waters of their orthodontic experience.and seeing new smiles unfold. I especially enjoy sharing in this with our adult patients, who are filled with everything from trepidation to excitement as they begin their orthodontic journey. Then, when their braces come off – it's priceless!
My husband and I have three grown children and are Nonni and Poppy to two granddaughters who still think we're fun to be with! We enjoy the company of our two dogs, a mini-doxie and a mystery rescue, whether we're at home or at the Jersey shore. Kayaking in Delaware Bay keeps us from becoming beach potatoes in summer, and I practice and teach yoga, too!
---
Annemarie
Certified Orthodontic Assistant and Lab Technician
I love working in orthodontics and I'm thrilled to have assisted Dr. T. in creating great smiles since 1995! It's amazing to be part of the Levitt Orthodontics family, knowing we've helped so many wonderful people change their lives by creating new smiles for them. I'm really looking forward to helping you develop your beautiful new smile! Working in our clinic, I provide chairside assistance during various procedures and help with other clinical duties as needed. I also work behind the scenes, in our lab, creating retainers and other devices that will help you keep your finished smile healthy and beautiful.
Outside of work you'll find me home with my husband and our dog Maggie, tackling home projects, or spending quality time with my elderly mother who has given me so much. I try to give back to my two grown girls, who've become my best friends, and love how our two precious grandkids keep my hubby and me busy. For me, it's all about family at home and family at work!
---
Marni
Orthodontic Assistant
Hi! I'm excited to be helping you develop a smile you love and look forward to becoming your friend during visits. I love witnessing a person's smile transform and seeing that person gain confidence and self-esteem in the process. I promise to be your biggest cheerleader while you're in our care! I work in our clinic, where I assist Dr. T. with different procedures. It's a great experience to work in such a fun, supportive, friendly office, where our patients and their families are part of our family!
I love spending my time off with my family, whether taking long walks with my husband and our dog, Rey, or enjoying local sports with my son and son-in-law. I also like watching movies and TV shows with my daughter and am always up for making pillow forts with my two grandsons. (I make the best forts: don't tell Pop!) I also love to read and make crafts with the boys, who are anxiously awaiting their new sister or brother due to arrive later this year.
---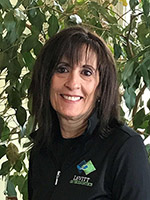 Barbara
Front Desk, Insurance and Scheduling Coordinator
Hello and welcome! I love developing relationships with our families and helping to make each visit a great experience. It's very rewarding to see people I care about transform and grow, both physically and personally, as they achieve their best smile! I work at the front desk, where I schedule visits and will be glad to answer your questions about billing. I'll also help you with your insurance, acting as an intermediary with your carrier, to make sure you get the most from your benefits and decrease your out-of-pocket expenses.
When not in the office, I love spending as much time as I can with my three grown children, two grand-dogs, and two grand-cats. However, two of them live out of the state so we connect digitally. I also love all sports (especially field hockey as my daughter was an All-American!), cooking, and making photo books. I enjoy concerts, traveling, and doing the New York Times crossword puzzle, too.
---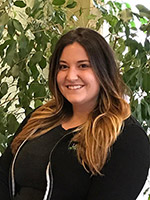 Gia
Orthodontic Assistant
Hi, I'm really looking forward to meeting you! Levitt Orthodontics is a family-friendly practice and I know you'll feel right at home here. If there's ever anything you need, please let us know: we want you to enjoy your visits! I offer chairside assistance, supporting Dr. T. during procedures, and making sure you're comfortable and understand what we're doing. The best part of my work is watching our patients become happier and more confident during treatment. By the time you're finished, you'll be a new person!
When I am not at work, I enjoy spending time in Cape May with my husband, Michael, and my son, Dominic.